Location
Sapa, Vietnam, Southeast Asia
Tour Intro
This was a 3-day-2-night trip in total that consisted of travelling to Sapa from Hanoi, hiking for 2 days and then returning to Hanoi. This trip involves staying in the town of Sapa in a hotel and 1-night in a homestay in the rural rice terrace environs of Sapa.
The Trip
Getting picked up from Vietnam Backpackers Original at around 6:30am via mini bus, after an hour of picking other travellers up we were taken to a coach that was heading to Sapa. Hanoi to Sapa is around 6 hours and the coach is normally fitted with sleeper beds.
Arriving just after lunch at Sapa Markets, I enjoyed some local but very strong coffee whilst waiting for my pick-up to my hotel. I had been put up in Fanispan View Hotel, which was right in the centre of Sapa. I had one double bed and two singles, a hot shower, WIFI and a stunning view of the Sapa Lake. Staying here prior to trekking the next day was ideal, as it allowed me to rest, take it easy and prepare ahead. Sapa itself is a really cosy little town, and arriving just after the Christmas celebrations, it still had Christmas trees and lights dotted around the town. With the added cold weather, it certainly felt like a English Christmas I was once very use to!
**A great tip before going trekking is that Sapa has dozens of shops with trekking attire including coats and footwear. I purchased a NorthFace jacket for just 7USD!
Day 1 of Trekking – 1st and 2nd Quarter
We began trekking at around 9:30am going primarily through small villages heading through Seo Trung Ho National Park. What we discovered is that women from the Hmong ethnic group tend to follow in a friendly manner at the hope of selling something to you. I have to admit at first this seemed to be a little annoying despite their honest efforts, but they were a great help when it came to overcoming some difficulties. The second quarter of the trek we encountered some very slippy pockets of mud slopes, which, without the hands of the Hmong women, would have been more a struggle. This was by far the most difficult part of the hike as a whole, so I tipped them eventually. Definitely try take footwear with a grip, trainers will be ok but will make you skid a little more than you'll want. We passed Bamboo forest, dozens of rice terraces, villages and downhill rock which made the trek interestingly varied. The weather was cool but refreshing.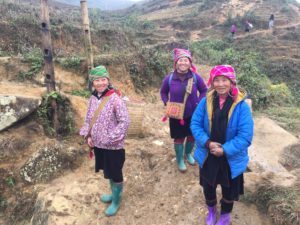 3rd & 4th Quarter
By the third quarter of the trip we had ascended a fair bit and were in constant presence of stunning views of the opposing rice terraces. We visited a rocky rugged waterfall and began to descend slightly just before lunch. The food was chicken noodles and vegetables with some fruit and yogurt. This was a good meal for anyone whilst being active and constantly on the go; the meal was not heavy and generally quite healthy. Vegetarian choices are available too.
The latter part of the hike didn't seem to last long after lunch. As a small group, we managed to get through the trek fairly quickly, including stop offs for taking photos, investigating different crops and plantations, and the odd breather. The rice fields were the cherry on the cake, as they are truly spectacular and are everywhere to see. Weaving in and out of them is very much apart of the journey too.
Homestay
We reached our homestay in Ban Ho before 3pm so we had loads of time to kill. There was beer and water for us to purchase (as drinks weren't included in the tour). Our beds were mattresses on the floor with fairly good space and surprisingly there was very strong WIFI. That night we enjoyed sitting with the homestay family and guide and ate a selection of dishes including chicken and pepper, boiled rice, mini prawns, cabbage, pig intestines, tofu and a variety of greens. We washed this down with 'happy water', which is local rice wine. We had a few shots at the friendly insistence of one of the family members and to finish up we sat around the fire before heading to sleep.
Day 2 – Trekking + Waterfall
The next day lasted around 3-4 hours. After rising at 9am and finishing breakfast we visited a village a little higher than our location in BangHoi. I couldn't help myself as I jumped in and out of the rice fields whilst coming across many buffalo in between. Descending eventually, we reached our last spot of the trip. Before that though, we cleverly climbed across a rocks edge to reach a waterfall nearby to our homestay as we cooled off with the calm views and tranquil surroundings. We headed back to the homestay for lunch and taken back to Sapa.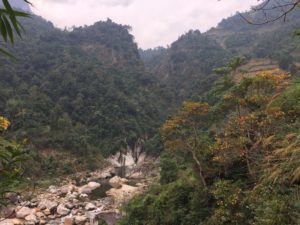 Review
One of the nicer treks I've done in terms of surroundings and relaxed approach. The rice terraces are stunning and are the pinpoint of the whole trip. The homestay was a real highlight and the hospitality was really homely, so much so I would have preferred to stay one more night! Travellers who enjoy this trip like myself will probably want it to last longer. The trip has potential to add one or two more days to the itinerary. I would definitely do this tour again and if I did I'd hope it was a small group again.
The level of trek is moderate because there are slippery points to be wary of.  Apart from the 2nd quarter of the hike, the rest is fairly plain sailing but if you are not wearing good footwear and have balance issues, this maybe not be suitable. Saying that, confidence is key and if you like rural surroundings, there probably isn't a better place to go in the whole of Vietnam.
Links + Information
www.vietnambackpackerhostels.com