Renowned to many as a buzzing, east-v-west super-city, Hong Kong certainly has a stereotype. Filled with its roaring and relentless city life, Hong Kong gets its reputation of being the New York of the east. You'll find temples side-by-side to towering skyscrapers, dingy alleyways behind stunning waterfronts, street food stalls next to cocktail bars and high-end malls to rustic markets. It's fair to say, there's a lot going on in HK.
But the worst kept secret in Hong Kong is that over half of the land rural, whilst there are over 250 outer-laying islands. From fishing villages to foreign communities to dozens of tucked-away beaches, it's shore galore in Hong Kong.
We can't break all 200-odd islands down for you but in case your visiting for the first time, check out the 3 islands in Hong Kong you should visit.
Make your way to Central Station and follow the signs to 'All Piers'. Numbered 1-7, you'll find the entire island destinations mentioned below at one of these seven ports.
Lamma Island
Lamma has been a favourite for foreigners for years. With hiking trails, temples, bars, restaurants, beaches of all kind and no roads for mainland vehicles, it's easy to fall in love with the place. It's a complete contrast to the hoards of people and traffic in Kowloon and on Hong Kong Island.
Yung Shue Wan is evidentially popular for many visitors to Lamma with more choice on places to indulge with a heavy western influence on food and drinks. If you want delights such as fish and chips head to Lamma Grill, whilst The Blue Goose Tavern does excellent gin & tonics for half the price as they are on mainland Hong Kong. For a more local feel and fresh cuisine, Sampan Seafood Restaurant is a notable choice.
Alternatively, if you take the ferry to the Sok Kwu Wan port on Lamma's eastside, it gets even quieter. There are a handful of sheltered seafood restaurants, one of the Tin Hau Temples and a litter of fishing boats. Then you can hike to Yung Shue Wan and stop off at the beaches like Lo So Shing Beach.
For further adventures, you can hike up to the highest peak on the island, Mount Stenhouse. Take plenty of water and SPF, as this is more a bushwalk than an easy trail. Just follow the steep path and follow the arrow and ribbon signs.
Central Pier 4 will take you to either of the piers in Lamma and won't take longer than 30 minutes.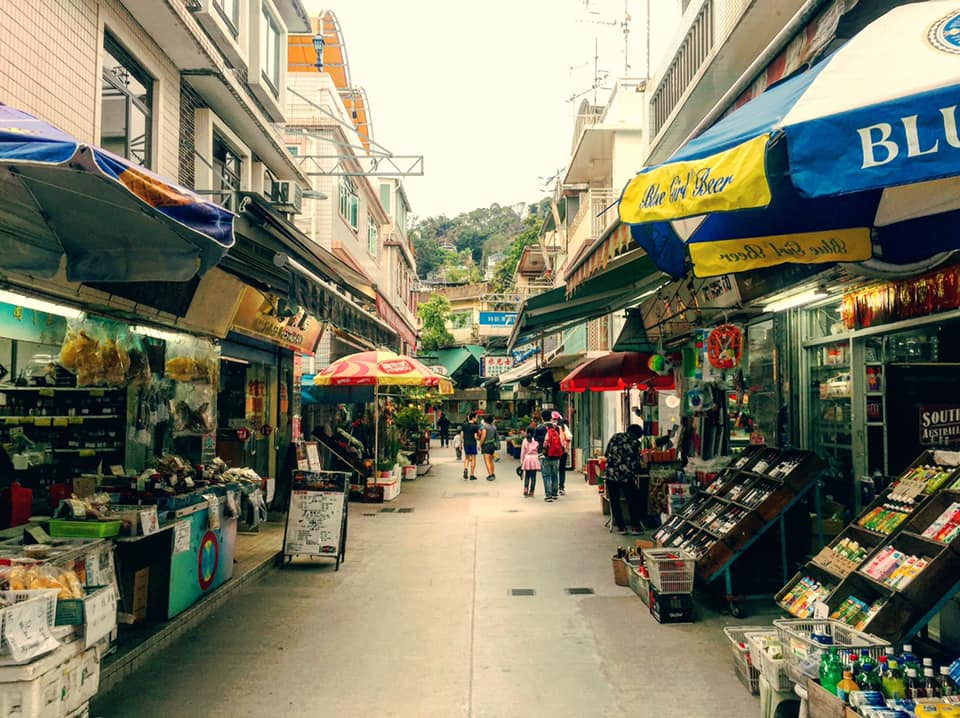 Lantau Island
Lantau Island is the largest in Hong Kong and arguably the most stunning. Its lush verdant green appearance is almost Amazon-like and it has two of Hong Kong's highest peaks on show. Lantau Peak, luring in its towering appearance is over 3,000ft high whilst it's neighbour, Sunset Peak is at 2,400ft.
Lantau is more famously home to the 'Big Buddha' Tian Tan, one of Hong Kong's most famous attractions. You can take the gruelling hike as part of the Lantau trail or as many do, take one of the scenic gondolas to the top.
Mui Wo, where the 70km Lantau trail begins, is a quaint coastal spot. There are some bars and restaurants but typically last orders to make it past 10 pm. Instead, locals and visitors alike grab some meat and beers from the store and use one of the several BBQ facilities in all one big congregation. Mui Wo's Silvermine Beach is tucked away like a cay and is the centre point of the town.
Central Pier 6 is where you need to take the ferry from to get to Lantau Island.

Cheng Chau
A packed little island that has surged in popularity in recent years, Cheung Chau still gives off the essence of cool. With winding streets, coupled with no roads in sight, Cheung Chau is easy to warm too. Throw a flutter of outdoors restaurants, ancient temples, coastline, beaches, caves and viewpoints, Cheung Chau has plenty to explore. It's true you may not find any serenity here unless you wander off to the foothills, but that's the beauty, you can experience both extremes.
Closing in by ferry at Cheung Chau Pier, get your smartphone out. Whether it's the fishing boats in the water or the built-up centre, it's easy to spot a good frame. After that, most visitors head over to Tung Wan Beach to ease into the day.
Cheung Chau's Bun Festival is one of the island's famous annual attractions, consisting of thousands of vegetarian flavoured buns. This takes place in May or in the Chinese lunar calendar on the fifth – ninth day of the fourth month, this three-day extravaganza is filled with bun towers, parades, competitions, lion dances and ceremonies to celebrate Chinese culture.
Moving away from that, on a normal day in Cheung Chau visiting the Pak Tai Temple, dedicated to the sea god Pak Tai, who apparently helped fended off disease and pirates that once took over these shores. Over 200 years old, it's a rustic piece of history you must check out in Cheung Chau, and is a stone throws away from the pier.
Speaking of pirates, Cheung Po Tsai Cave is somewhere you should visit if you like swashbuckling tales. Cheung Po Tsai was a 12th-century Chinese pirate who apparently stored his treasure in these environs. This is one of the island's popular attractions. Another one of his famous hideouts was at Reclining Rock, actually made up of five rocks tipping over the emerald waters below.
For extra adventurous affairs, head to the highest point on the island at north Pavillion lookout.
Central Pier 5 will take anywhere between 30 – 50 minutes depending on the type of ferry you take.