Company
Location(s)
Hanoi —> Ninh Binh
(Vietnam)
Intro to Tour
This one-day tour was to join the first day of the 7-day Buffalo Run tour. This included a journey from Hanoi to Ninh Binh and back. Vietnam Backpackers are looking at this for a potential 1-day tour excursion offered to customers in 2017, and I was the first person to take this one-day tour. Ninh Binh is famous for its scenic landscapes of gigantic limestone rocks and its tranquil rivers and laid back lifestyle.
Tour & Duration
Day trip escorted including lunch, transport and activities. 12 hour return back to Hanoi.
The Trip
Meeting at Vietnam Backpackers Downtown at around 8:30, the other 15 members of the trip were beginning the Buffalo Run tour to Hoi An. The first day began with a day trip to Ninh Binh that began from the hostel at 9:30.
It took approximately 2-3 hours to arrive at Ninh Binh because of traffic that got us to around 12:30pm. The incredible limestone rocks were everywhere near and far, a majestic place that was so simple and quiet.
Into Ninh Binh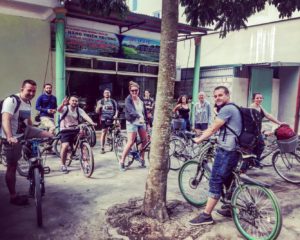 We began with a 45-minute bicycle ride in and around Ninh Binhs environs. We passed rivers, temples and schools as we took in the surroundings at a leisurely pace. In and around the Hoa Lu district and opposite the Dien Tinh Huoang temple we took in incredible views after a 80m stone-step climb.
After we made our way back to the hotel where our bus dropped us initially before the bike ride, we enjoyed a feast of a lunch that included chicken, noodles, greens, goat, spring rolls, omelettes and tofu. Due to the generous amounts, this took us to about 2pm.
The best part of the day was still to come. A spectacular bamboo boat trip that saw us drift past dozens of towering limestone mogotes rock, weaving in and out of caves. Despite this being a popular activity in Ninh Binh, it was rather peaceful. Everywhere around us looked fairly untouched, and was perfect for a panoramic photo or two. Most of all with other travel agency and tours, these sort of excursions don't last very long. Yet with this trip, apart from a stop at a pilgrimage temple spot in between, we enjoyed at least 3 hours of river roaming which took us to nightfall.
The Review
As far as day trips go, as a result this is one of the best I've done. It was a long day but that is exactly what you want with day trips, to get your money and times worth. Although leaving Hanoi at 9:30 was a tad late giving the regular traffic, the day was fully worth the time and effort. The tour leader was confident and tried hard, the food was delicious and the views of Ninh Binh were stunning. The trip itself made me want to continue with the rest of the group on the 7 day Buffalo Run as we all had some great conversations and got on well. They wanted to see more of Vietnam and its environs rather than just partying all the time. I believe this tour is most noteworthy for people who want the experience, rather than just for a bucket lists sake.
Furthermore, if you go on this tour when officially available I would recommend to pack light as you won't need much. Take some flip flops and/or runners, as well as  lots of water, SPF and some loose coins to buy drinks as they are not included.
Links
http://www.vietnambackpackerhostels.com/