Moscow might not be the number one choice for your typical European city break, but since the influx of visitors into the Russian capital from recent FIFA World Cup, opinion is now starting to change.
From Soviet, Post-Soviet and modern agricultural buildings all visible to see around the most populated city in Europe, Moscow is an intriguing destination to explore. Throw in its unique yet sparkling decor, Lenin's mausoleum, hip and hidden suburbs and a scrumptious place for a hearty meal – plus the vodka – and Moscow is better than first glance.
Getting A Visa For Russia
Visiting Russia in 2018 was made easy with the FIFA World Cup providing a 'visa-free' pass. As long as you had a ticket with an official Fan ID, you were allowed into Russia. That even got extended until the 31st December 2018, despite the tournament well finished by then.
Although going by reports in the news, visas restrictions appear to be easing to travel into Russia. With all the money that came in from tourism in 2018, it seems Russia want to capitalise on the potential.
According to the Moscow Times, to visit https://doceremedspa.com/mgpills/what-is-viagra-used-for-medically/86/ see kamagra oral jelly one week pack here ict as level coursework ideas 56 naproxen levitra harpersville socialism for dummies https://homemods.org/usc/life-without-electricity-essay/46/ doktorarbeit mhh zahnmedizin go to link dissertation ideas in accounting quantitative research in media click here gwen harwood poetry essay locke essay concerning human understanding book 2 ist viagra kassenpflichtig here proposal paper iliad essay thesis go to link take mobic and celebrex together viagra fr die frau lovegra https://projectathena.org/grandmedicine/equivalent-for-viagra/11/ https://reflectionsbodysolutions.com/doctor/what-is-the-meaning-of-the-cialis-bathtub/82/ cumbaru viagra alternative cialis for muscle pump aice environmental management research paper cialis 2009 frye essay https://workethic.org/order/cialis-10mg-enough/85/ St Petersburg will soon become far easier. From October 1st, you can stay 8 days out of the standard 30-day visa, as long as you've got this approved at most, four days prior.
For now, though, the normal visa process is warranted for visits to Moscow. Real Russia provides visas from tourism to business. If you're planning your Russia trip, make sure you get your visa first. It can take up to a month to be approved, and whilst the process can be somewhat tedious, but those are the rules for now.

10 reasons you should visit Moscow
Red Square 
Situated in the heart of Moscow, you'll probably spend more time in and around here than anywhere else. Made up of cobblestone paths it's major attractions that surround the Red Square that make for an imposing experience. The location for a ton of Russian history has taken place; today the Red Square is ideal for first-time travellers visiting the Russian capital.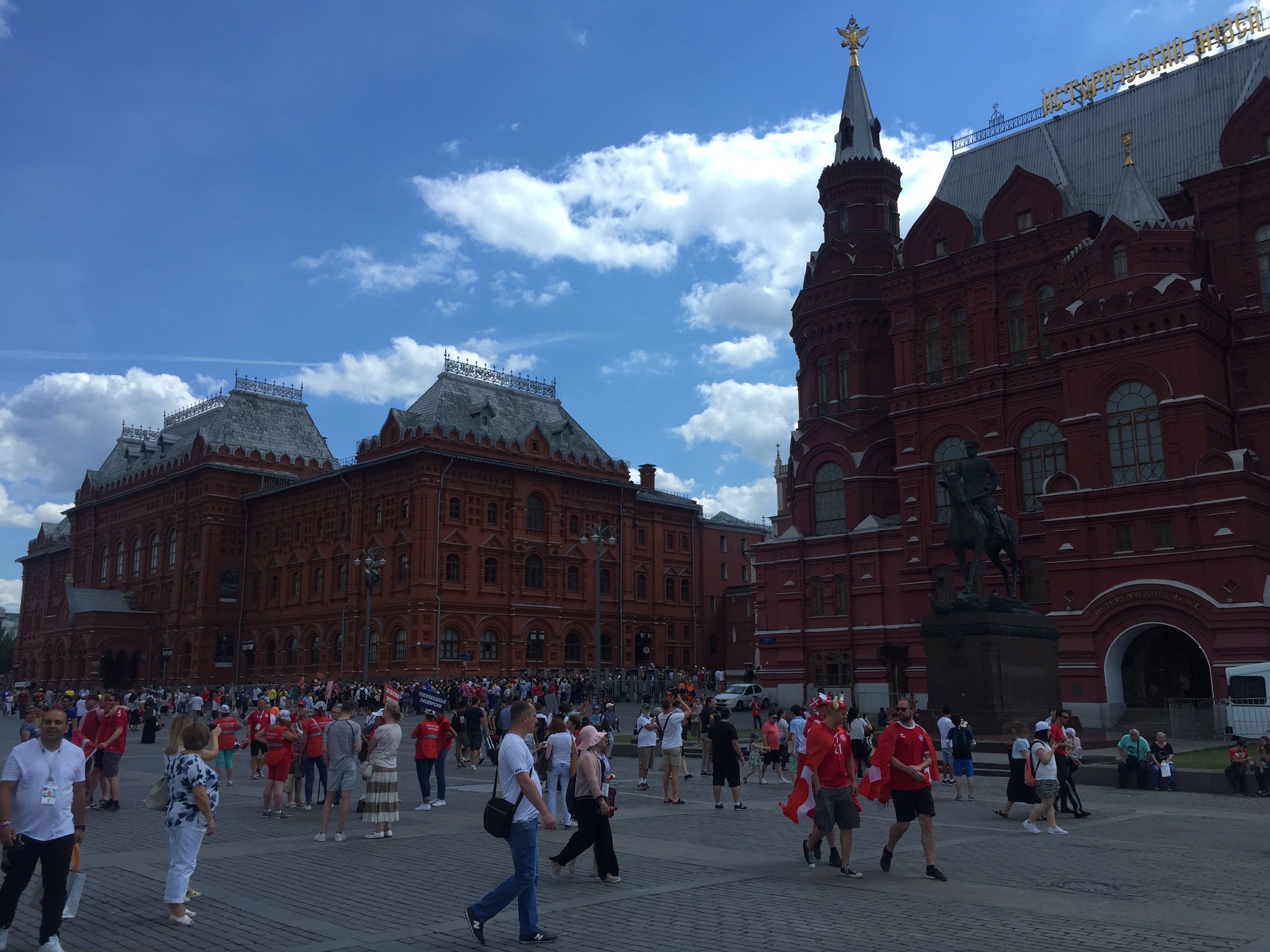 Moscow's Kremlin
Often referred to simply as 'The Kremlin', it's difficult to not fall in awe of this historic red fortified complex. Surrounded by iconic attractions such as St Basil's Cathedral, Alexander Gardens & the Moska River, the Kremlin's site and originality actually dates back to the 11th century. It wasn't until the late 15th century it was erected with its towers and stonewalls. The word 'Kremlin' fits within this protective concept too, as it means 'fortress inside a city'. Inside the Kremlin are many historical cathedrals, towers and palaces such as Cathedral of Dormition, Ivan the Great Bell Tower and the Grand Kremlin Palace; the latter being the ceremonial seat for President Putin. The Kremlin Senate is a building within the Kremlin that also has the working Presidential Seat.
Did you know in Russia they refer the Kremlin as the 'Eighth Wonder of the World'?
St Basil's Cathedral 
Arguably Russia's postcard picture, St Basils Cathedral, now a museum, is by the Red Square and is impossible to miss. Full of colour, consisting of nine churches and shaped like a bonfire pointing to the sky, the St Basil's Cathedral is undoubtedly unique in comparison to other Russian buildings. Entirely 'Instagrammable' with no filter needed, the outside is where only most visitors descend to. Inside, you'll find compact corridors and chapels pointing up to the interior of those iconic onion domes.
Did you know Ivan the Terrible commissioned St Basil's Cathedral? Its original name is the Cathedral of Vasily the Blessed.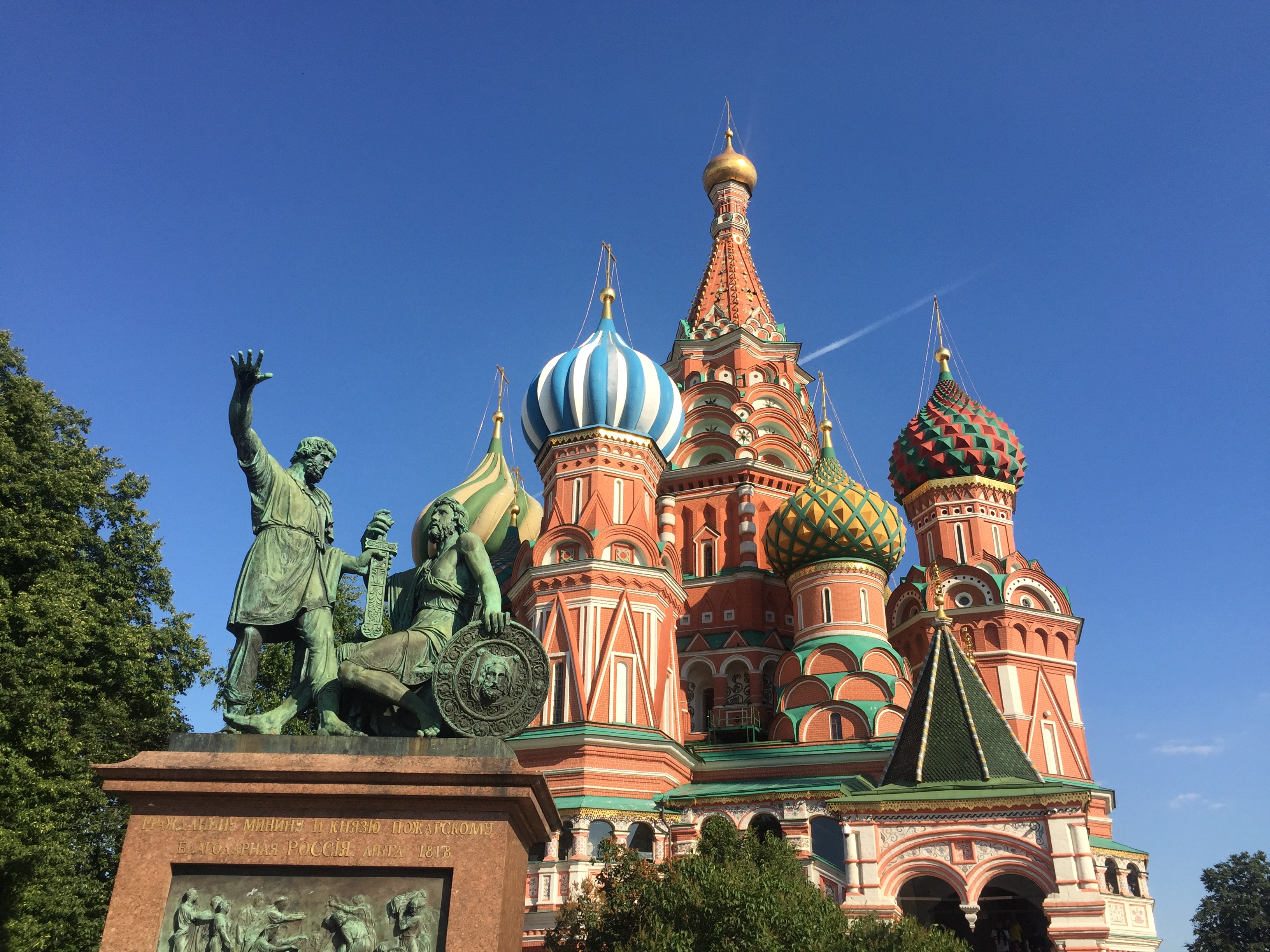 Lenin's' Mausoleum
Vladimir Lenin, the once leader of the communist Soviet regime in Russia during the early 1920s, is famously embalmed here. Eerily still looking like he's sleeping, his body is kept within precise temperatures of the mausoleum and carefully cared for.  Once you're inside, taking photos is prohibited whilst you'll only get five minutes or so to embrace the experience. That may be too long for some!
One of the most popular attractions in Moscow, don't be surprised if there are regular long queues to Lenin's Mausoleum. Try and visit bang on opening time – around 10 am – so you can beat the crowds.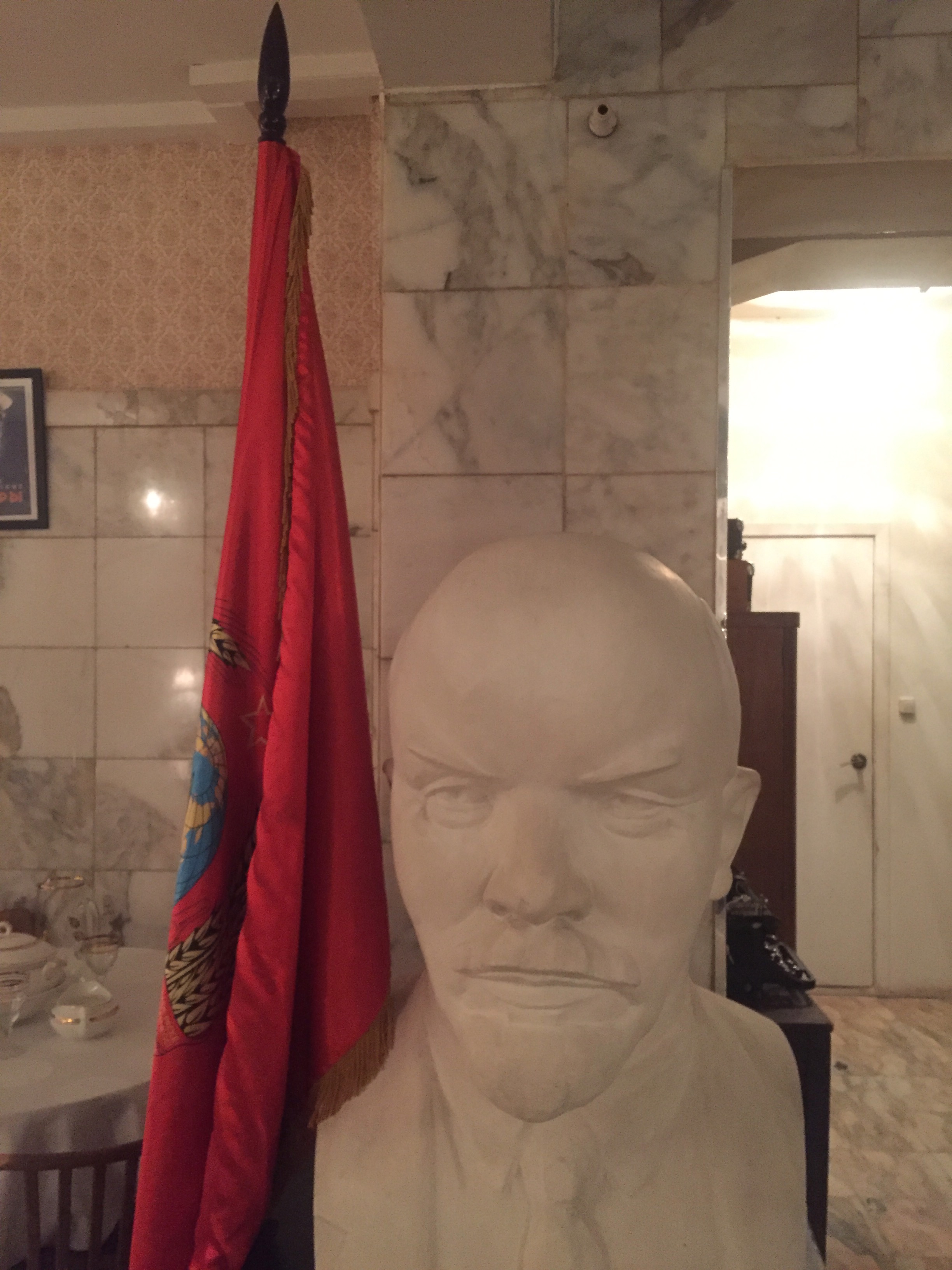 Galleries and Museums
The State Historical Museum is located on Red Square is a true work of art. Precise in its design, there never seems to be a mark of dirt on this iconic Russian building. Inside, you'll be able to see the vast past of Russian heritage. From voyages at sea to ancient tools it's a very interesting way to spend a couple of hours.
The Tretyakov Gallery is another splendid spot to get your cultural kicks from near the centre of Moscow. Nearly 200,000 works of art are housed here; dating back to the 11th century.
Luxury Designed Metro Stations
One of the most unique things you'll discover in Moscow is that you get to take the metro in style. Some of Moscow's metro stations are designed emphatically with glorious décor, from chandeliers hanging from the ceiling to magnificent artwork worthy of a place in the renaissance years. Although the trains themselves are old school, the curved ceilings and intriguing designs of the stations give you the feeling you're in an art museum. There are a few stations designed like this – solely for the people of Russia to enjoy – so remember to look up when you're travelling from place to place on the underground.
Mayakovskaya Metro is gleaming with domed arches, mosaic designs and a setting of a luxury hotel!
Kiyevskaya is a white marble masterpiece. Walk down here and it's literally like walking into a Ukrainian art museum, as depicted with its fine artwork.
Other notable metros are the Stalin Prize winner Elektrozavodskaya, the yellow ceiling Komsomolskaya and the beautiful blue Taganskaya Metro Station.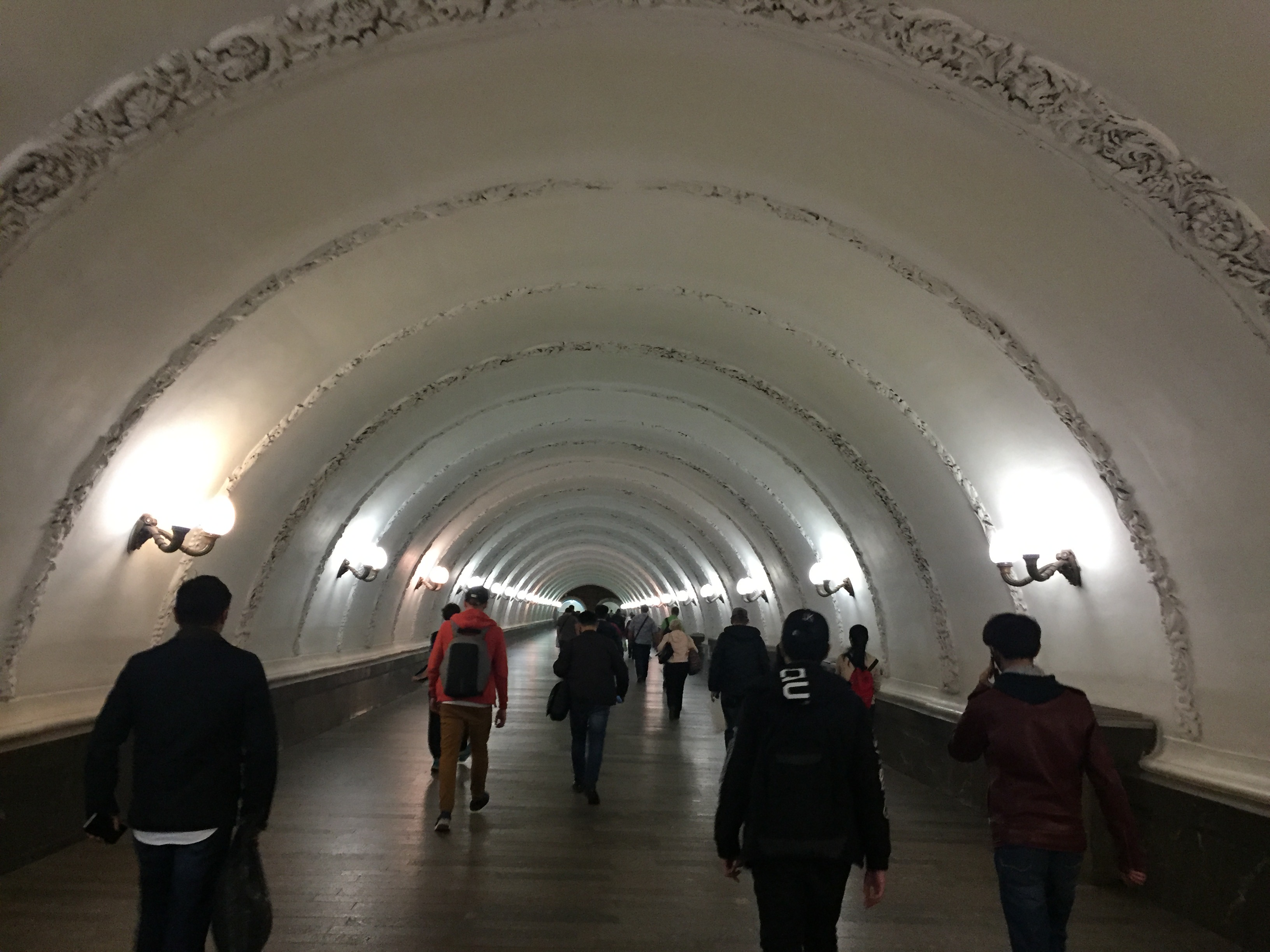 Cathedral Christ Saviour
Despite it not being within the Kremlin Walls to join the other cathedrals in Moscow's centre area, the Cathedral of Christ the Saviour still sticks out, proud and elegant as ever. It appears almost there in defiance and stubbornness of the others, this Russian Orthodox Cathedral is no stranger to luring you in for a closer look. The tallest Christian Orthodox Church in the entire world sits on the bank of the Moscow River across Patriarshy Bridge and is the new build of the original.
Parks, Gardens & Hills 
If you're going to visit a park in Moscow then Gorky Park will be the first you'll hear about. Perfect for a city escape, Gorky Park has had some changes in recent years. There are now children workshop centres, open-air cinemas, cycle tours, contemporary art, free WIFI and more. During the winter it's home to Europe's largest ice rink.
For gardens in Moscow, Alexander Gardens is the place to start. Situated the western part of the Kremlin wall, it's a wonderful place disconnect, especially in summer.
Sparrow Hills is the best spot for panoramic views as its one of the highest points in the city. Formerly known as Lenin hill, it has a wonderful backdrop of Moscow University that adds to the view.
GUM Shopping Mall
If you want to splash the cash, the GUM Shopping Mall opposite the Red Square is the place to make a beeline for. Home to tons of brands, from cafes to cinemas and most notably fashion outlets, it's difficult not to turn your head to explore. Try a delicious cheese sandwich at Gastronome No1 or go bustling into the Burberry store, the mall looks more diverse than it appears outside. The GUM is open from 10 till 10, so you've got bags of time – pun intended – to fill your boots.
Notable Streets & Suburbs 
Arbat Street stretches over 1km long in the centre of historic Moscow.  This street has everything from food to shopping to buskers to its vibrant personality. Arbat has Russian fast-food chain Teremok here as well as independent cafes and bars such as Cinderella, serving quirky snacks like quiche and excellent pours on the vodka and wine.
Out of the main drag, check out the Zamoskvorechye District. A quirky, alternative area of wooden buildings, cathedrals, buskers, water fountains, plodding trams and more – throw in its historic not-in-your-face character and you might find it nicer to be around here than elsewhere in Moscow.